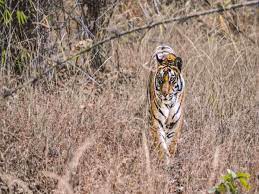 In a recent report on the Tiger Estimation 2022, Madhya Pradesh has emerged as the leader in tiger numbers outside protected reserves, outpacing Karnataka by a significant margin. The data from the report has raised concerns about congestion inside tiger reserves and the potential for human-animal conflict.
According to the Tiger Estimation 2022, Madhya Pradesh currently boasts 785 tigers, out of which an impressive 346 are residing outside the protected reserves. In contrast, Karnataka, with 563 tigers, has only 153 of these majestic felines outside its reserves. This significant difference in tiger population outside reserves has led to Madhya Pradesh taking the lead in the overall tiger count.
The data from the report indicates that over the past four years, Madhya Pradesh has witnessed a substantial increase in the number of tigers outside reserves. In 2018, the state had only 203 tigers outside the protected areas, while Karnataka had 185. However, by 2022, Madhya Pradesh saw a remarkable rise in tiger numbers outside reserves, with 346, while Karnataka's count stood at just 153.
The reasons behind this surge in tiger population outside reserves in Madhya Pradesh remain under scrutiny. Karnataka's Forest Minister, Eshwar B, has expressed disbelief over such a significant increase in tiger numbers in Madhya Pradesh. He has urged the Environment Minister, Bhupendra Yadav, to review the numbers, as the difference between the two states' tiger counts is astonishing.
Experts suggest that the methodology of conducting the survey may play a role in the contrasting numbers. The decision to install camera traps is made by state forest departments in consultation with the Wildlife Institute of India, which analyzes the data to arrive at the final estimation. Placing more camera traps outside the reserves, especially in areas with a higher tiger presence, could result in higher estimations.
The report has also shed light on the increasing congestion inside tiger reserves in India, leading to more territorial deaths and pushing tigers to live in smaller spaces. This situation raises the prospect of human-animal conflict, as tigers venture outside the reserves in search of territory.
Several tiger reserves in India, such as Corbett National Park in Uttarakhand, Bandhavgarh in Madhya Pradesh, Bandipur, and Nagarhole in Karnataka, Madhumalai in Tamil Nadu, and Kaziranga in Assam, have reached their saturation points. These reserves have seen up to a 15% annual increase in population, and about 40% of the tiger population now resides outside the reserves, which the Wildlife Institute scientists say is unprecedented.
As the congestion increases, tiger movements outside the reserves have also escalated. Tigers from highly congested reserves like Corbett and Nagarhole have been spotted venturing into new territories, leading to conflicts with humans.
Furthermore, the rising congestion has resulted in a higher number of tiger deaths due to human-animal conflicts. Wildlife Protection Society of India data shows that 125 tigers have died in the first seven months of 2023, compared to 143 in the entire year of 2022. Most of these deaths were reported from Madhya Pradesh.
Conservationists emphasize that effective monitoring, incentive-based schemes for voluntary relocation of communities outside forest areas, and a good prey base can help reduce human-animal conflicts. Additionally, proper corridor management between reserves can alleviate congestion without conflicting with humans.
With India's tiger population increasing to 3,682 in 2022, experts warn that tiger habitats in the country can accommodate a maximum of about 4,000 tigers. Therefore, it is crucial to address the rising congestion and take necessary steps to preserve these majestic creatures and ensure a harmonious coexistence between humans and tigers.
In conclusion, the Tiger Estimation 2022 report highlights the need for thoughtful conservation strategies to safeguard tiger habitats and prevent potential conflicts, ensuring that these magnificent creatures continue to thrive in the wild.
Sources By Agencies