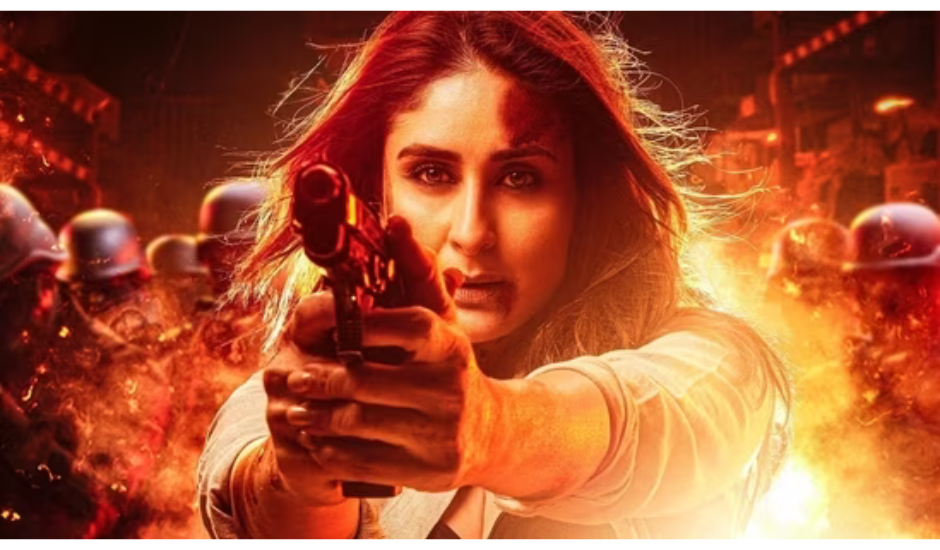 Bollywood superstar Kareena Kapoor has set the internet abuzz with her electrifying first look as Avni Bajirao Singham in the highly anticipated film 'Singham Again.' The actor, renowned for her versatility, revealed her intense avatar as she wielded a gun, pointing it firmly ahead, in a captivating image shared on Instagram.
Director Rohit Shetty introduced Kareena Kapoor's look from the film, describing her as the strength behind 'Singham.' In the image, Kareena's character exudes an intense aura with a visible injury on her forehead and face. Clad in a black T-shirt beneath a blue shirt, she stands amidst a fiery backdrop as a group of police officers encircles her.
Kareena Kapoor's accompanying caption, "It's about time… 🔥 Rejoining forces with the cop verse 🚓… Singham Again," has ignited excitement among fans and film enthusiasts. Akshay Kumar and Ranveer Singh, who also star in the film, shared the images, lauding Kareena's fierce portrayal.
Ranveer Singh, praising Kareena, wrote, "Fierce!!! The captivating Kareena Kapoor Khan as Avni." Akshay Kumar humorously warned, "Avni Bajirao Singham returns…mess at your own risk!"
'Singham Again,' directed by Rohit Shetty, features a stellar ensemble cast, including Akshay Kumar, Ranveer Singh, Ajay Devgn, Deepika Padukone, and Tiger Shroff in pivotal roles. The film marks the third installment of the blockbuster 'Singham' franchise, known for its action-packed narratives.
Scheduled to hit theaters on Independence Day 2024, 'Singham Again' is set to face a formidable box office clash with Allu Arjun's 'Pushpa 2.' The franchise, initiated with 'Singham' in 2011, continued with 'Singham Returns' in 2014, both achieving tremendous success at the box office.
In addition to 'Singham Again,' Kareena Kapoor has a slew of exciting projects on her horizon. She is set to appear in 'The Buckingham Murders,' directed by Hansal Mehta, alongside Ash Tandon, Ranveer Brar, and Keith Allen. The Bollywood diva will also feature in 'The Crew,' sharing the screen with Tabu, Kriti Sanon, Diljit Dosanjh, and Kapil Sharma in a special cameo role. The film, revolving around three women in the airline industry, promises to be a laugh-riot, scheduled for release on March 22, 2024.
Sources By Agencies