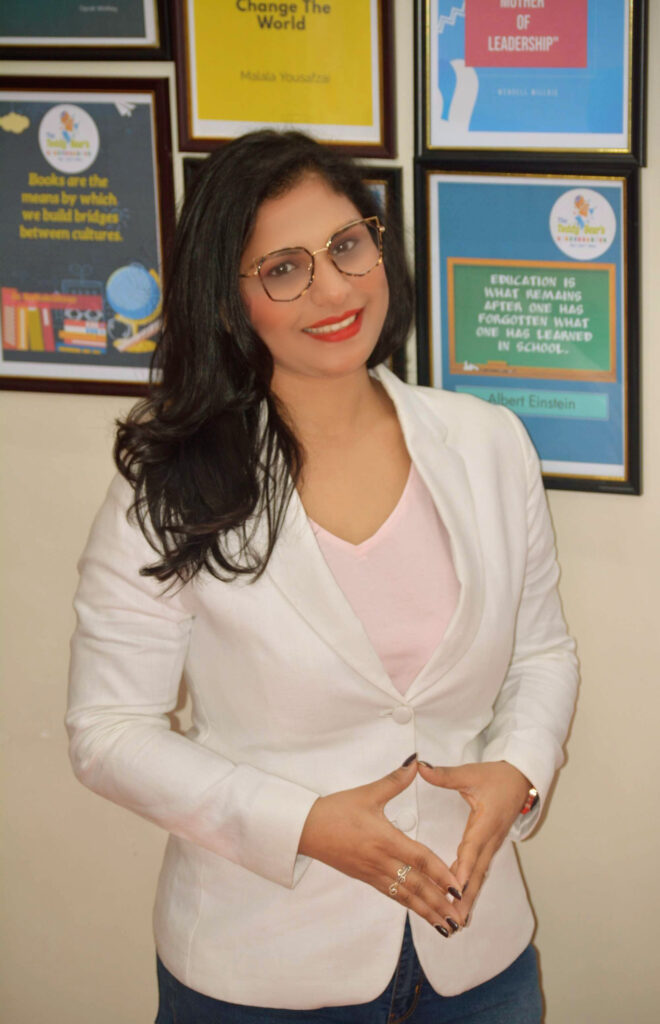 Money management is a crucial life skill that we all need to learn, and it's never too early to start teaching it to our kids. In today's world, where kids are bombarded with advertisements and peer pressure, it's important to teach them about the value of money and how to manage it wisely. Jigna Agarwal, Director and Principal at The Teddy Bear's Kindergarten, is a parenting coach who has come up with some fun and interactive ways to teach kids about money management.
Jigna Agarwal is a renowned Parenting Coach and the Director and Principal of The Teddy Bear's Kindergarten, a leading preschool in India. With over a decade of experience in the education industry, Jigna has dedicated her career to helping parents and children navigate the challenges of early childhood education and development.
Jigna's passion for teaching and nurturing young minds led her to establish The Teddy Bear's Kindergarten, which has since become one of the most sought-after preschools in the region. Her unique approach to education combines traditional learning methods with innovative and interactive techniques to create a dynamic and engaging environment for young children.
As a Parenting Coach, Jigna works closely with parents to help them understand the unique needs and challenges of raising young children. Her expertise in child development and education, coupled with her compassionate and empathetic approach, has earned her a reputation as a trusted and reliable source of guidance and support for parents.
Jigna is a firm believer in the importance of teaching children about money management from a young age. Through her work at The Teddy Bear's Kindergarten, she has developed a range of fun and interactive activities to help children learn about the value of money, earning, saving, and spending. Her innovative approach has helped countless children develop strong financial skills and habits that will benefit them throughout their lives.
Introduce Physical Coins and Notes:
The first step in teaching kids about money management is to introduce them to physical coins and notes. You can start by showing them different denominations of coins and notes and explain their value. Kids love to play with coins, so you can let them count and sort the coins to get a better understanding of their value.
Teach Them about Earning and Spending:
Once kids understand the concept of physical money, it's time to teach them about earning and spending. You can explain to them that money comes from working, and it's important to spend it wisely. Encourage your child to help you with small tasks at home, like setting the table or cleaning up, and reward them with a small amount of money for their effort. This will teach them that money is earned through hard work.
Next, you can help your child create a budget for their spending. You can give them a small amount of money and let them decide how they want to spend it. They can buy a toy or a treat, but they should also be encouraged to save some money for future expenses.
Make Saving Fun:
Saving money can be boring for kids, but there are ways to make it fun. You can create a savings jar and encourage your child to save their money in it. You can also set up a savings goal, like saving for a new toy or a family vacation, and help your child track their progress towards it.
Another fun way to teach kids about saving is to play a game called "Money Jars". This game involves creating jars for different categories of spending, like toys, books, and clothes. Each jar has a goal amount that needs to be reached, and the child can add money to each jar based on their spending priorities.
Teach Them About Giving:
Teaching kids about giving is an important part of money management. You can encourage your child to donate a small amount of money to a charity or a cause they care about. This will help them understand the importance of giving back to the community.
Jigna Agarwal says ' "I used to always hear in my childhood that money is an important part of our life, back then my dad used to say save and you will be brave, i got my first lesson of my life of money management from my parents. Nowadays kids are more demanding, and to avoid it parents keep on telling them that we cannot buy as we are saving money or we don't earn much. So to make kids understand money management I came up with activities related to money management. We at "The Teddy Bear's Kindergarten" teach toddlers first about physical coins, notes or currency, then make them understand through activities and play way method that who brings the money to our home, what they should do with the money if they get it, and how they can help their parents by saving the same. As a Youth icon in education industry, I want to inculcate these small habits in the little ones at this age which go a long way in their future endeavours."