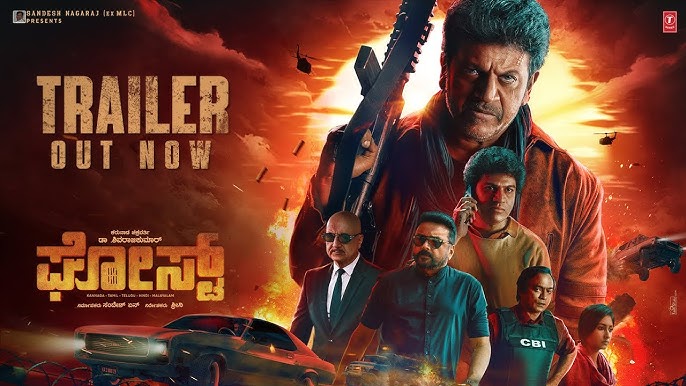 The eagerly awaited trailer of the upcoming Kannada film "Ghost" has been unveiled, setting the stage for a thrilling cinematic experience. Starring superstar Shivarajkumar in a fierce gangster role, the trailer promises an action-packed extravaganza filled with gunfights, missile launches, and gripping dialogues.
In a departure from his typical roles, Shivarajkumar's portrayal of a ruthless gangster in "Ghost" has left fans buzzing with excitement. The trailer opens with a message encouraging viewers to wear headphones for an immersive experience, setting the tone for the intense narrative that follows.
Shivarajkumar delivers a powerful line in the trailer, declaring, "War, the downfall of the human world, is more terrifying than the empires we've built. Empires may fade from history, but I've never forgotten those who brought destruction upon them." This statement establishes the dark and action-packed theme of the film.
The trailer features a gripping entry scene by Shivarajkumar, where all the inmates in a jail bow down in reverence before him. His rugged appearance, complete with smoking a cigarette amidst raging flames, adds to the aura of his character.
As the trailer unfolds, it reveals a plot centered around a hijacking, with suspense and intrigue building as the story progresses. The background music complements the intense sequences, enhancing the overall impact of the trailer.
The audience's reaction to the "Ghost" trailer has been overwhelmingly positive, with fans lauding Shivarajkumar's performance and the film's action-packed sequences. Comments on the trailer have poured in, with many expressing their excitement for the film's release.
"Ghost" is scheduled for a worldwide release on October 19, with distribution rights acquired by Pen Studios, known for their association with hit films like "RRR" and "Jawan." The film also features a talented ensemble cast, including Anupam Kher, Jayaram, Prashanth Narayanan, Archana Jois, Satyaprakash, and Dattanna.
With its explosive trailer and high expectations, "Ghost" is poised to deliver a thrilling cinematic experience that will leave audiences on the edge of their seats. As the release date approaches, fans eagerly anticipate the gangster drama's arrival on the big screen.
Sources By Agencies