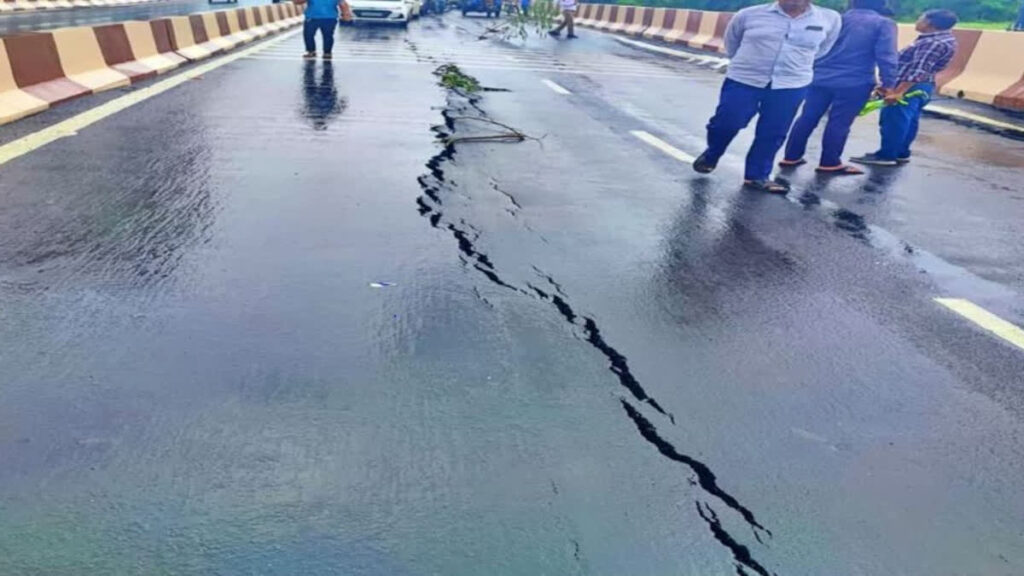 In a disconcerting turn of events, a bridge in Gujarat has developed cracks less than 40 days after its inauguration, raising serious concerns about the quality and safety of infrastructure projects in the state. The Variav Ved Bridge, spanning the Tapti river in Surat, was inaugurated by Chief Minister Bhupendra Patel, but its structural integrity has now been compromised.
The newly constructed 1.5-kilometer bridge, costing a staggering sum of Rs 118 crores, has suffered settlement issues on a 25-meter stretch of the road leading to the bridge. Surat Municipal Corporation (SMC) officials have reassured the public that there is no damage to the bridge structure or its approach. They attribute the settlement to soil subsidence caused by heavy rainfall, as the affected portion of the road was elevated and constructed using reclaimed gravel and filling material.
However, opposition leader Dharmesh Bhandari from the SMC believes that these incidents are part of a larger pattern of corruption. He alleges that substandard projects are deliberately sanctioned by those in power, with kickbacks shared between the construction companies and politicians. The Aam Aadmi Party (AAP) has also criticized the ruling party and called for a thorough investigation into the matter.
This recent incident is not an isolated case of bridge failures in Gujarat. Earlier this month, a bridge across the Mindhola River, connecting the villages of Mayapur and Degama, collapsed, impacting numerous towns. The construction of that bridge, which began in 2021 and cost Rs 2 crore, is now being accused of corruption and the use of poor-quality materials.
Furthermore, in April, the Atal Bridge's glass floor developed cracks. This overbridge, located between Ellisbridge and Sardar Bridge, was constructed at a cost of Rs 74.29 crore. Delays due to the COVID-19 pandemic pushed back its completion date, and concerns were raised about the quality of its construction.
These incidents have led to calls for a comprehensive investigation into the state's infrastructure projects to ensure public safety and hold accountable those responsible for any wrongdoing. The people of Gujarat deserve bridges and infrastructure that are built to the highest standards, and any lapses in quality or corruption must be thoroughly addressed.
As concerns mount over the safety and reliability of Gujarat's bridges, it is imperative for the authorities to take immediate action to restore public trust and ensure that infrastructure projects adhere to stringent quality control measures. The well-being and safety of the citizens must remain the top priority in all construction endeavors.
Sources By Agencies