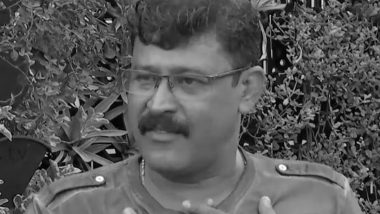 In a heartbreaking turn of events, Milan Fernandez, a highly respected art director in the Indian film industry, tragically passed away on October 15 while working on the set of "Vidaamuyarchi." The film, directed by Magizh Thirumeni and featuring the acclaimed actor Ajith Kumar, was being shot in Azerbaijan when this unfortunate incident occurred. Milan Fernandez suffered a sudden cardiac arrest, which proved to be fatal, leaving the industry and his colleagues in deep mourning.
Milan Fernandez was a well-known name in the Indian film industry, having lent his artistic vision to a multitude of Tamil films over the years. Some of his notable works included "Billa," "Veeram," "Annaatthe," and "Pathu Thala," to name just a few. His contribution to the world of cinema was both significant and impactful, making his loss all the more profound.
The shooting of "Vidaamuyarchi" had commenced earlier in the month, and Milan was actively involved in the project. On the day of his passing, Milan had reported to the set as usual, assembling his team for work. However, he began to experience uneasiness and excessive sweating, causing concern among the production crew. In a bid to provide him with immediate medical attention, a car was arranged to rush him to a nearby hospital. Tragically, before they could reach the hospital, Milan Fernandez succumbed to the cardiac arrest.
The news of Milan Fernandez's untimely demise sent shockwaves through the Indian film industry, and heartfelt condolences poured in from colleagues, friends, and fans. The production team of "Vidaamuyarchi" took to their social media accounts to share their deepest condolences, expressing their grief over the loss of the talented art director. Film distributor Karthik Raviverma also shared the sad news on his social media, marking the somber day in the film industry.
Milan Fernandez leaves behind a legacy that will forever be remembered and cherished by those who had the privilege of working with him. His exceptional creativity and contributions to the world of Indian cinema have left an indelible mark, and his absence will be profoundly felt by all.
As the industry mourns the loss of this talented and dedicated artist, the memories of Milan Fernandez's work will continue to shine on the silver screen, a testament to his passion for his craft and his enduring impact on Indian cinema.
Sources By Agencies