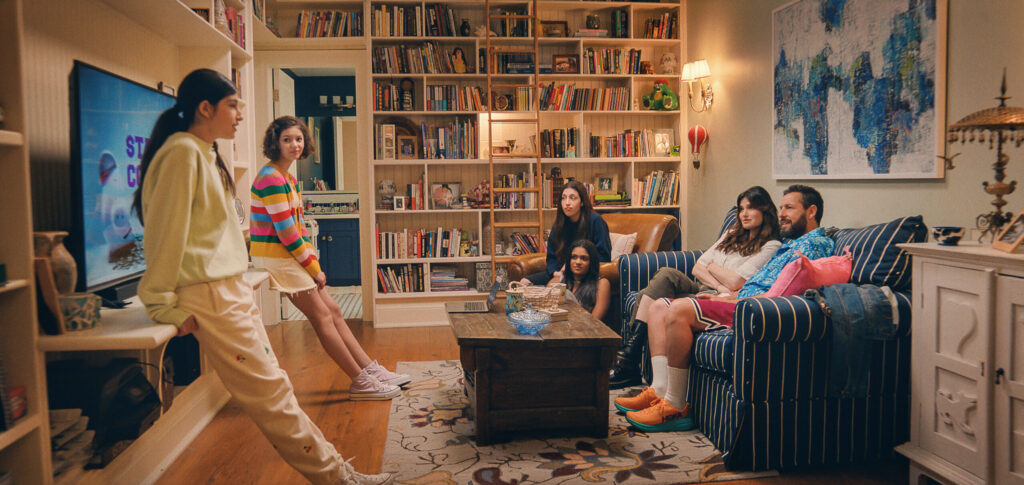 The anticipation is building as Netflix prepares to release its upcoming film "You Are So Not Invited To My Bat Mitzvah," starring none other than Adam Sandler and his real-life family members. Set to premiere on August 25th, the film brings together Sandler's 14-year-old daughter, Sunny, as the lead alongside his 17-year-old daughter, Sadie, and his wife, Jackie. Accompanied by Idina Menzel, this comedy promises a delightful and heartwarming experience for viewers.
Based on Fiona Rosenbloom's 2005 novel, the movie dives into the middle school escapades of Stacy Friedman and Lydia Katz. The tagline, "BFFs Stacy and Lydia are both planning epic bat mitzvahs. But it all unravels when a popular boy — and middle school drama — threaten to ruin everything," sets the stage for a hilarious and relatable coming-of-age story.
Penned by Alison Peck and directed by Sammi Cohen, the film is a collaboration that aims to capture the essence of both youth and adulthood. Sammi Cohen remarked that the movie's unique perspective offers insight into the Jewish coming-of-age experience while touching on universal themes that resonate with kids and adults alike.
The trailer for "You Are So Not Invited To My Bat Mitzvah" dropped on August 10th, leaving fans excited to witness Adam Sandler's children following in their father's footsteps. The trailer introduces us to seventh-grader Stacy, whose dreams of a perfect bat mitzvah take an unexpected turn when she discovers her best friend Lydia kissing a boy Stacy likes. The ensuing drama challenges Stacy's friendship, leading her to make tough choices that ultimately teach her the value of forgiveness and genuine connections.
The movie also boasts an impressive cast, with Adam Sandler himself making an appearance alongside his family. Idina Menzel, known for her role in "Uncut Gems" alongside Sandler, takes on the role of his character's wife. Additionally, the ensemble includes Sarah Sherman from "Saturday Night Live," Luis Guzmán from "Punch-Drunk Love," Ido Mosseri from "You Don't Mess with the Zohan," and Samantha Lorraine from "The Walking Dead: World Beyond."
With its heartwarming narrative and talented cast, "You Are So Not Invited To My Bat Mitzvah" promises to be a delightful addition to Netflix's lineup. As fans eagerly await its release on August 25th, the film's blend of humor, relatability, and family dynamics are sure to captivate audiences of all ages.
Sources By Agencies