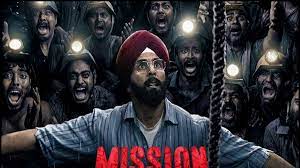 In the latest update, Mission Raniganj: The Great Bharat Rescue, starring Akshay Kumar and Parineeti Chopra, has inched closer to the ₹20 crore mark in India. Directed by Tinu Suresh Desai, the film is based on the remarkable true story of Jaswant Singh Gill, who saved 65 miners from a coal mine in 1989.
The film's box office collection has seen a steady progression, earning ₹2.8 crore on its opening day, followed by ₹4.8 crore on the second day, ₹5 crore on the third day, and ₹1.5 crore on the fourth day. According to early estimates, Mission Raniganj added ₹1.5 crore to its collection on the fifth day. In total, the film has accumulated nearly ₹16 crore at the Indian box office.
Mission Raniganj portrays the heroic efforts of Jaswant Singh Gill, who led India's first successful coal mine rescue mission in November 1989. The film, produced by Vashu Bhagnani, Jackky Bhagnani, Deepshikha Deshmukh, and Ajay Kapoor, highlights this extraordinary true-life event.
During a recent statement about the film, Akshay Kumar praised director Tinu Suresh Desai's hard work, declaring the film as one of his best works. He expressed pride in the movie and suggested that Tinu deserves a National Award for his dedicated work on the screenplay.
Mission Raniganj is a tale of heroism, determination, and triumph in the face of adversity, celebrating a moment in Indian history where a team of individuals worked tirelessly to rescue trapped miners. The film's song "Jeetenge," sung by B Praak, encapsulates the motivational spirit and determination that the film brings to life.
With its heartwarming story and powerful performances, Mission Raniganj continues to resonate with audiences, making it a memorable addition to Akshay Kumar's filmography.
As the film approaches the ₹20 crore milestone, it is evident that its touching narrative and strong performances have connected with viewers across India. Mission Raniganj stands as a testament to the power of real-life heroism and the unwavering spirit of humanity.
Sources By Agencies